Insurance-based Integrative & Holistic Medicine
Acupuncture | Massage | Pain Management | Weight-Loss
An Integrative medicine practice which blends the best of Western medicine with traditional approaches to help you achieve optimal wellness of body, mind, and spirit.
Insurance: We accept Medicare, PPO (UnitedHealth, Anthem, Blue Cross, Aetna, Healthnet, Cigna). We will contact you regarding insurance eligibility and covered services.
Non Insurance-based First Visit Special for Hideko Clients: $150 for 45 min Medical Treatment which may include trigger point injections, acupuncture, dry needling, myofascial release cupping, and other integrative modalities to address your unique needs.

Available Schedule Hours: Wed 8am – 4pm
Meet Our Medical Doctor
Isabella Lai, M.D., received her B.A. from Harvard University, majoring in Neurobiology with minor in Health Policy and Spanish Language/Literature. She then returned to sunny California to obtain her M.D. from Stanford University, concentrating in medical education. She completed her internship and residency in Internal Medicine at UCLA, and is board-certified by the American Board of Internal Medicine. She obtained her Integrative Medicine fellowship at the UCLA Center for East-West Medicine. She has a strong interest in integrative medicine and enjoys caring for patients using a holistic approach to heal the mind, body, and spirit.
Dr. Lai's clinical and professional interests include:
nutrition
gut microbiome
stress relief
brain optimization
meditation
medical education.
She finds joy in working with patients to develop a vision for their health and life, and in helping patients reach their health and wellness goals. In her free time, she enjoys cooking, traveling, spending time with family, and building miniature dollhouses.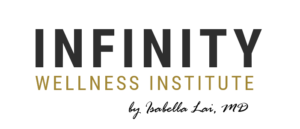 Facebook